BUILDING POSSIBLE
CARRIER CENTER FOR INTELLIGENT BUIDLINGS Carrier is a leading global provider of innovative HVAC, refrigeration, fire, security and building automation technologies. Supported by the iconic Carrier name, the company's portfolio includes industry-leading brands such as Carrier, Kidde, Edwards, LenelS2, and Automated Logic. Their businesses enable modern life, deliver efficiency, safety, security, comfort, productivity, and sustainability across a wide range of residential, commercial, and industrial applications.
With so many different businesses, Carrier customers needed to visit multiple locations to understand the whole company's technologies and services.
Therefore, the idea for the Center for Intelligent Buildings (CIB) was born out of the desire to bring customers to just one location to feature all of Carrier's integrated technologies and create a place to innovate, test, and share new ideas with customers.
Planning for the project began in 2014 and the ideation phase revealed Carrier wanted a customer-first building that would:
Bring to life all the ways Carrier businesses are "building possible" around the world.
"Reveal the Unseen" by showing customers and employees how products that are typically hidden behind walls, in closets, or on roofs actually work.
Connect each customer with Carrier's innovative products and services and technologies.
Drive excitement around what visitors see, hear, and feel within their experience at the CIB.
Address individual business segments' conversations and needs.
When Carrier was ready to engage partners, they sought out Derse through our work with the Association of Briefing Program Managers, an association that champions and provides resources for the development of briefing programs and professionals as strategic resources vital to the successes of their organizations.
To begin the planning process, Derse used an eight-hour engagement mapping session with key business stakeholders to uncover each businesses' needs.
27 potential audiences were identified during the engagement mapping, each with a different set of needs when visiting the Center for Intelligent Buildings. This information helped Derse's designers create engaging and informative displays throughout the building, ensuring all visitors leave with a clear understanding of how Carrier's integrated products can bring value to their businesses.
Carrier's Center for Intelligent Buildings is comprised of four primary areas:
1
---
The Lobby, Immersion Theater, and Conference Center
sets the stage for the entire visitor experience.
2
---
Customer Experience Exhibits
holds over 21,000 square feet of experiential vignettes and interactive displays.
3
---
The Leadship Deck
is comprised of five different zones, each supporting Carrier's commitment to performance, innovation, sustainability, people, and communities in which it serves.
4
---
The Briefing Center
connects visitors and potential business partners with Carrier products and services.
Derse collaborated with a variety of specialists, evaluating each element of the building and ensuring no detail was left behind – from the structure, to the flexibility of the space, to the content, to the LEED certification – all resulting in a harmonious experience for the visitor.
THE LOBBY
Visitors are ushered into the clean, open lobby including a video wall showcasing Carrier's aerospace and commercial building business, while a glass 2-story demonstration reveals the working components of an Otis - branded elevator.
Immersion Theater
Tucked quietly behind the lobby content screen, the Immersion Theater provides visitors with the background to what the CIB is all about.
The Experience Center
Some visitors are not aware of the products and services Carrier has to offer. In the Experience Center the goal is to educate customers on offerings and integrations.
The Experience Center is zoned to showcase a variety of technologies working together across different markets and verticals, presenting the visitor with interactive displays and demonstrations that connect them with Carrier's businesses through sight, sound, and touch. Within this space Carrier revealed the unseen by showcasing products and technologies through open portals in the ceiling or walls which are highlighted by blue accent lighting.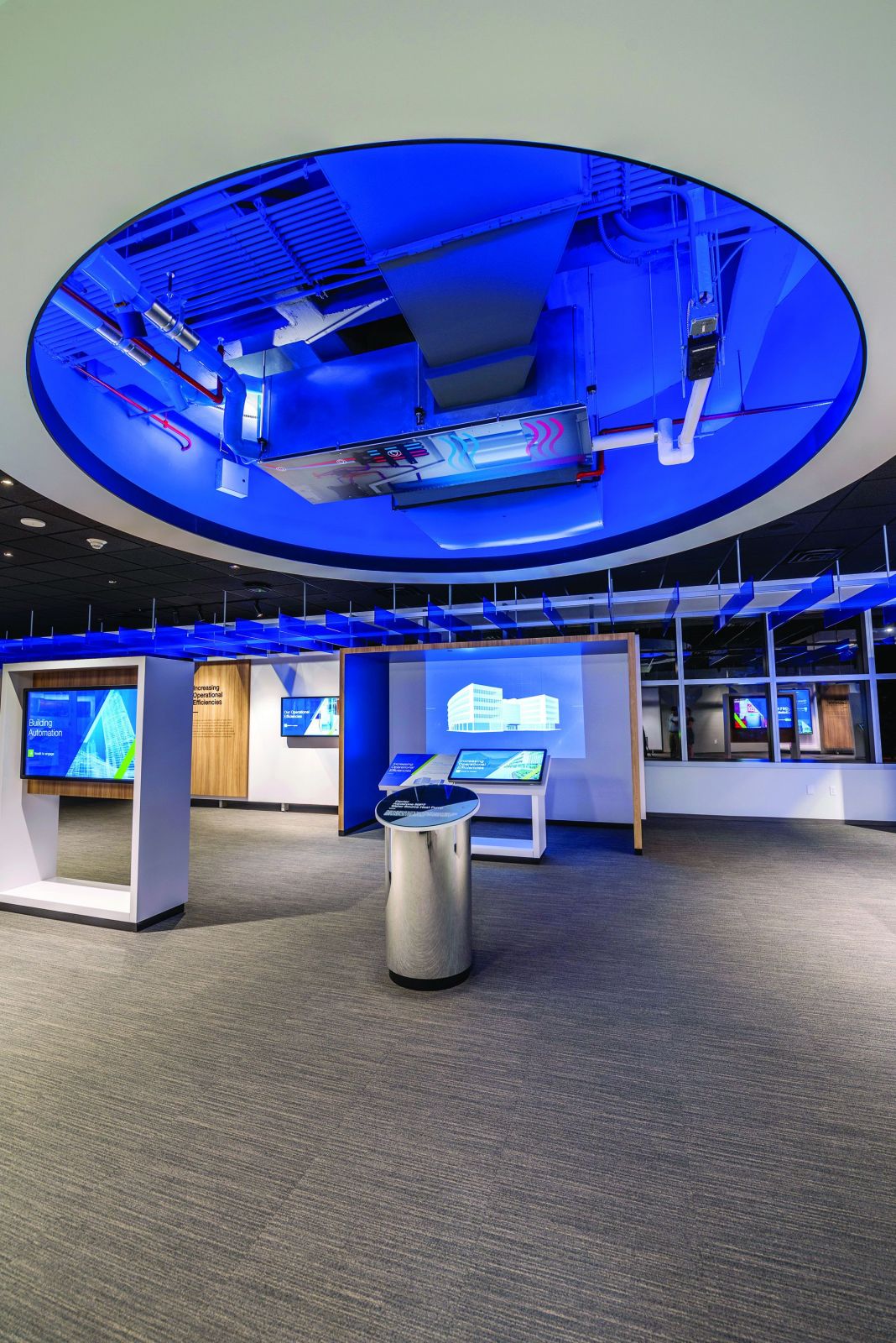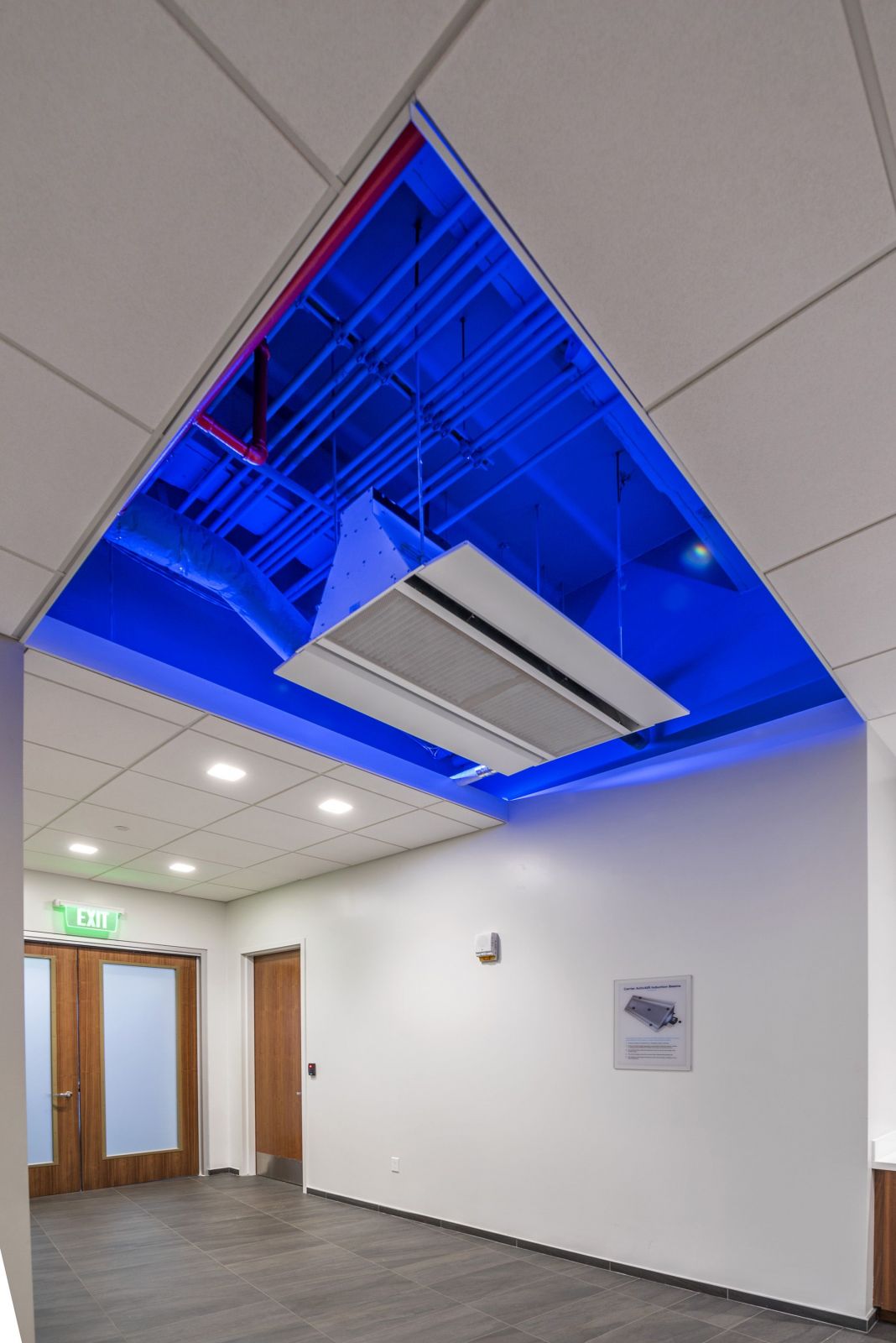 The Leadership Deck
The Leadership Deck informs visitors that Carrier serves customers in the commercial aerospace and building industries and ranks among the worlds most respected and innovative companies. It is comprised of five different zones, each supporting Carrier's commitment to performance, innovation, sustainability, people, and communities in which it serves.
The Briefing Center
The Briefing Center is intended to optimize dialogue between Carrier employees and their customers. It boasts two high-end briefing rooms featuring built-in technology along with multi-purpose spaces, hospitality, and work spaces for visitors.
After 36 months of planning and construction, the Center for Intelligent Buildings opened in May 2018. The Center for Intelligent Buildings is a living showcase that illustrates what is possible when all Carrier's technologies are implemented intelligently and integrated to increase efficiency, protect people and property, and enhance the occupant experience.
Carrier now has the ability to meet face-to-face with customers and prospects in one central location.
The CIB is more than just Carrier's world headquarters. The Building, Briefing Center, and Experience Center are the embodiment of the company's commitment to customercentricity and Derse is proud to have played a role in its fruition.